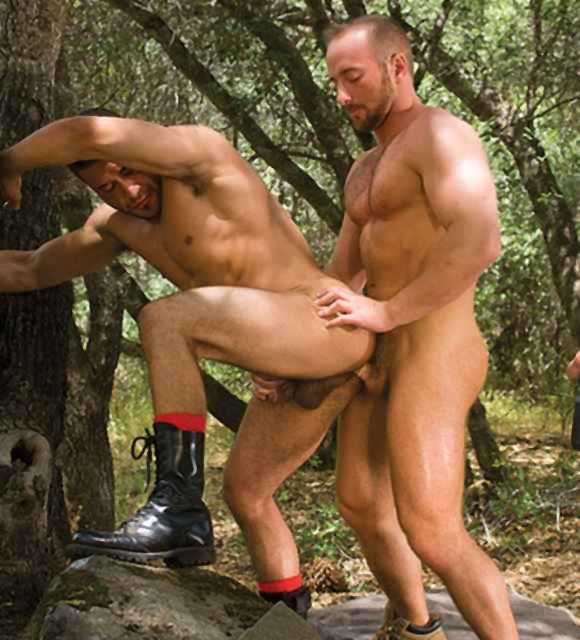 FALCON XXX released scenes from Mustang Studios' latest movie DIRTY!. After the first video featuring Scott Tanner and Blu Kennedy, now you can watch Tony Aziz (Mustang Exclusive Samuel Colt's hunky boyfriend) and muscular Max Sinclair take turns fucking each other in a scene called "Deerhuntin'".
And former Hot House Exclusive Ty Lebeouf fucks Luke Riley in the last scene of the movie.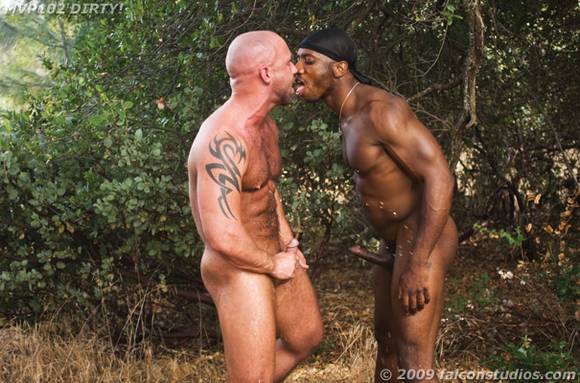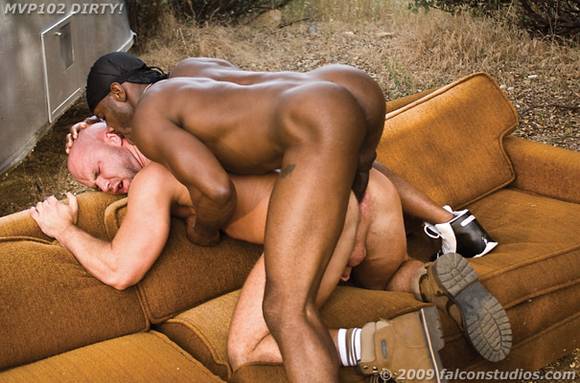 Air Streamin': Beefy Ty Lebeouf and his pal Race Cooper are two good ole' boys, parked on a couch next to their double wide, gettin' drunk on cold beer and each other. Ty falls onto Race's crotch and gobbles up his juicy dark meat, deepthroating it down to the base. Then Race goes to town on Ty's slim jim before burying his face between those peachy asscheeks for a liquored-up rim job. Next he lubes up his hot rod and he's off to the races as he skewers Ty's asshole, fucking him hard and dirty until both of them bust a nut.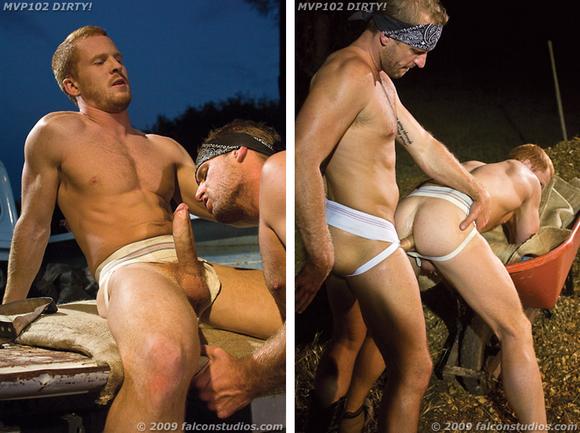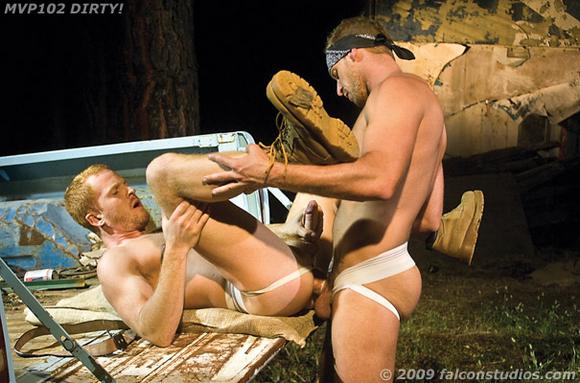 Refuelin': Blu Kennedy gets caught red-handed trying to siphon gas outta?Scott Tanner's pickup and he's soon pressed to take his whooping like a man. Scott forces his hose down Blu's throat, making the young thief gag. Then he makes Blu squeal like a pig when he beats his bare ass with a paddle. The action heats up and soon turns into redneck hillbilly manlove. Scott soothes the carrot-top's smarting ass with hungry licks before he slurps up his cock. As Blu lays down with his legs up in the air, Scott eases his dick inside his hole. They move into different positions and Scott picks up speed, driving his tool faster and faster until he waxes Blu's ass with his spooge. Blu climaxes too, leaving both studs outta gas.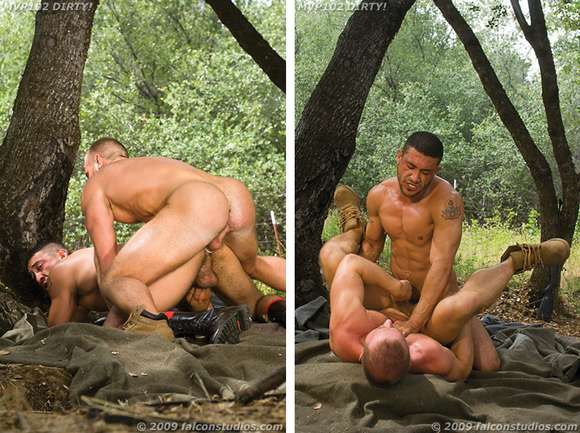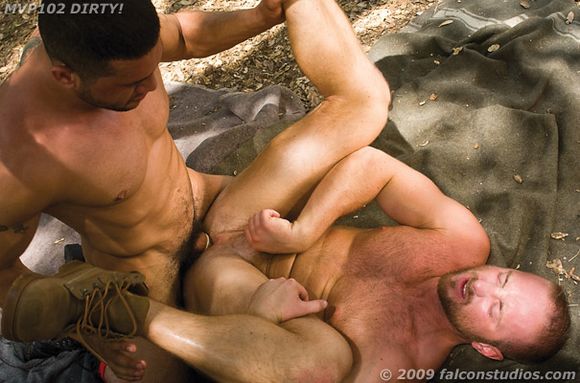 Deerhuntin': As hunters, Max Sinclair and Tony Aziz turn out to be pretty lame. They ditch their rifles and attack what they've really been targetting: each other. Hunky Max strips down, looking desirable and tasty, like easy prey caught in the crosshairs. Tony is so ravenous he jumps all over his buddy, sucking his sausage down his throat. Then it's Max's turn to gobble up Tony's beefstick. He sucks on it hungrily before he starts eating out his hairy ass. It's tit for tat as Tony returns the favor and starts rooting around Max's hole like a wild pig digging for truffles. But all that feasting is just a prelude to the buttfucking to come. Max rams his cock up Tony's ass and drills him. Then Tony has a go at Max, screwing him harder and faster until they both shoot their loads.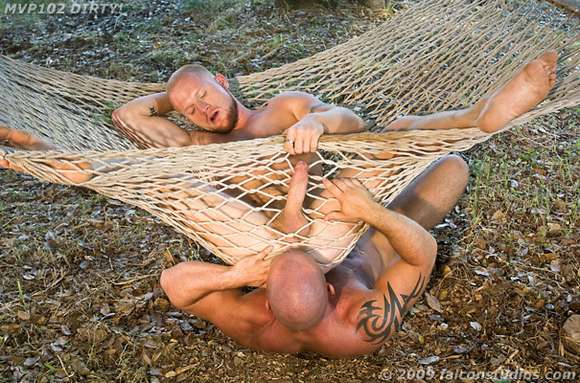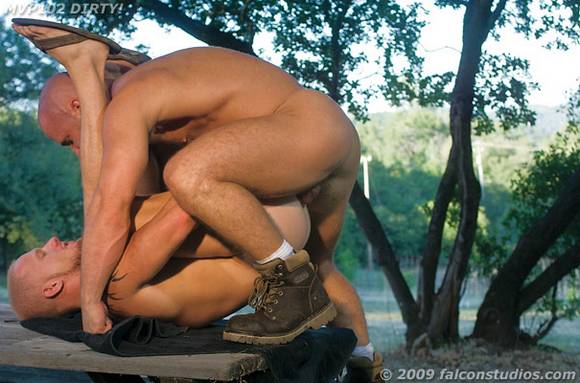 Mud wrasslin': Fishing plans are ditched when Ty Lebeouf and Luke Riley find their favorite waterhole all dried up; nuttin' left but a pool of sludge. But these rowdy rascals make a run for it anyway and wrassle in the mud. Caked in dirt, they head home to hose off each other's muscly bodies. Now clean and shiny the two studs settle down. They suck face for awhile before Ty goes down on Luke, nibbling on his big snake of a cock and juicing up his asshole with his tongue. Then Luke zeroes in on Ty's dick, sucking it hard; the big man grunts his approval. But it's Luke's tight ass that Ty's aiming for. He rams his pole right up that hole and spears his buddy good, chugging along in a happy rhythm until Luke cums. Then Ty sits back and unloads, right in his Luke's face. Yup, there's mud in your eye!
+ Members of FALCON XXX can watch scenes from DIRTY! online
+ Watch Behind The Scenes of DIRTY!
+ Watch Mustang Studios Movies
+ FALCON VIDEO ON DEMAND | FALCON STORE