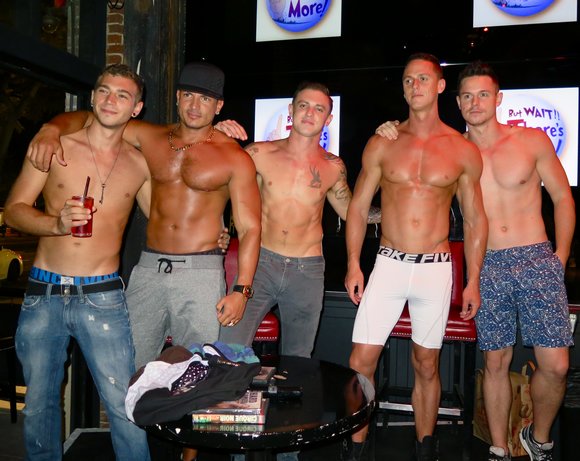 Phillip T, the owner of NightsInWeho.com, has sent me these pictures and article from last week gay porn event "DirtyDish," held in West Hollywood. (Check out Phillip's previous reports) The show along with porn stars Ivan Gregory, Alexander Greene, Topher Dimaggio, Jed Athens, Angelo Marconi, James Ryder, and more had teamed up for a back to school charity event.
This week, DirtyDish (West Hollywood's weekly porn interview / meet & greet show) hosted a back to school charity event. This is the 2nd year that the show has teamed up with the local porn community (performers and fans) to collect school supplies for children in the West Hollywood schools. The event was held at our Revolver Video Bar and featured pornstars Ivan Gregory and Alexander Greene as it's guests. The show hoped to collect enough backpacks and supplies to fund one entire classroom. Thanks to everyone's generosity, the show exceeded it's expectations, collecting 35 backpacks and amassing almost $1200 in supplies. A day later, supplies are still being delivered.
» Read the rest of the entry..