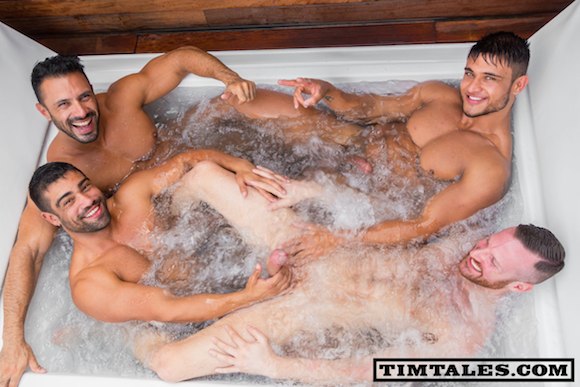 The very hot sex scene FLEX Gets DP'd by Wagner Vittoria & Diego Lauzen was released earlier this month. I really like that video and it's nice that TIMTALES.COM just released a little bit more behind the scenes orgy that took place after the shoot.
After the official videoshoot the boys wanted to relax a bit in the jacuzzi and of course when they noticed Tim´s rockhard cock, they could not resist to play a bit with it. The playing got really intense after some moments and it ended up in a nice jacuzzi orgy. I (Grobes) had a tiny pocket camera in my hand and the boys actually thought in the beginning i was just taking snapshots. But that little technical wonder records crystal clear HD video. And you can enjoy our behind the scenes orgy now. It´s more like a private video, but the boys agreed to share it with you.
Watch the trailer of this behind the scenes orgy starring Flex, Diego Lauzen, Wagner Vittoria, and Tim Kruger below.
» Read the rest of the entry..