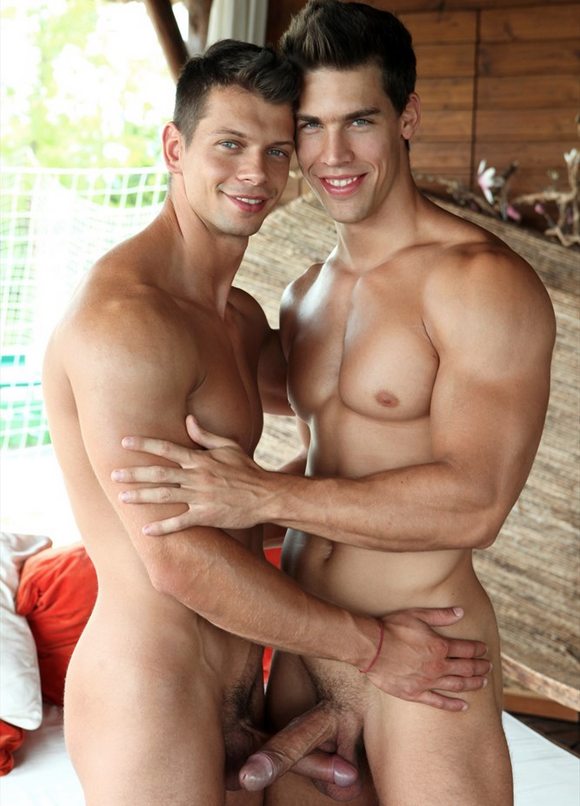 BELAMIONLINE.COM just released this hot photo set of porn star Kris Evans and Rhys Jagger as a "warm up" to Kris' bottoming for Rhys next month. Yes, Kris Evans' Bottoming Series I talked about is coming! These pictures were photographed in late 2012 in Hungary.
I was lucky I met this muscular porn star Kris Evans twice, at Bel Ami 20th Anniversary Party last year and on set of Bel Ami / NakedSword last month. He's much hotter and bigger in person.
Speaking of which, I think I should clarify something of the Bel Ami / Nakedsword production I covered last month (Dirty Rascals Exclusive Reports: Day 1 | Day 2 | Day 3 | Day 4 | Day 5) The word "co-production" I used might lead to some confusion. Let put it this way.
Dirty Rascals is a Nakedsword movie, story by Tim Valenti, script by Jack Shamama and directed by Mr. Pam. They flew in 4 porn stars – Connor Maguire, Tommy Defendi, Dato Foland and Darius Ferdynand. And they cast many Bel Ami models in this movie. They filmed on location in and around beautiful chateau outside Prague. In this same chateau, Bel Ami also shot their own sex scenes simultaneously. (They both filmed their own orgy scene on the same day!) And Bel Ami filmed Connor, Tommy, Darius having sex with Bel Ami models as well. Kris Evans and Vadim Farrell were there that day to film for Bel Ami. So… Sorry, you are not going to see them in Nakedsword's Dirty Rascals.
» Read the rest of the entry..