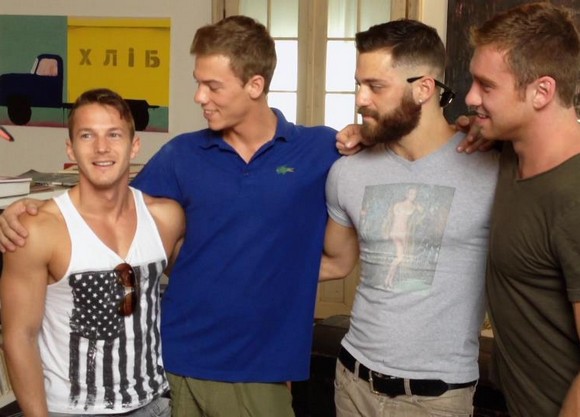 Here is another behind the scenes clip I took from the set of DIRTY RASCALS in Czech Republic last July. [Dirty Rascals Exclusive Reports: Day 1 | Day 2 | Day 3 | Day 4 | Day 5]. I have already posted videos of Dato Foland & Marcel Gassion and Mr. Pam and Leo Forte.
Today I have a video clip showing porn stars Connor Maguire, Darius Ferdynand, Tommy Defendi with Bel Ami model Rick Lautner and Lukas Ridgeston. It's from the day when Tommy and Darius first arrived at the chateau. (Connor arrived with Mr. Pam and Leo Forte a few days earlier.)
NAKEDSWORD.COM and BELAMIONLINE.COM team each shot their own behind the scenes material. So I was like the guy doing behind the scenes OF behind the scenes.

In this video, Lukas Ridgeston had Rick Lautner as his MC to chat with Darius, Tommy and Connor. After they finished, Mr. Pam took her turn to interview the models.
Oh, and I have to say that Darius Ferdynand looks super cute in this video!
» Read the rest of the entry..