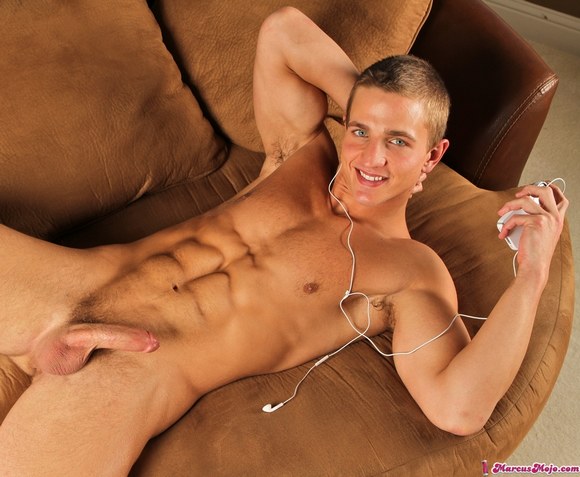 I just heard this good news: Former gay porn star Marcus Mojo is gonna be a daddy! Marcus and his long time girlfriend will soon be parents. Congratulation! (The Marcus Mojo Has A Girlfriend blog post I published 2 years ago was one of the most commented article in the history of Queer Me Now.)
Although he has stopped doing porn, this muscular bottom porn star is still a fan-favorite at the porn chat show, Dirty Dish in West Hollywood (formerly known as Cocktails With The Stars). For this special occasion, the team at Dirty Dish are excited to host the first ever Gay Porn Baby Shower with daddy to be Marcus Mojo on Wednesday, November 13th.
I've never heard of a gay porn event hosting a baby shower for a gay porn star before. The team from Dirty Dish told me they plan on making it memorable. If you happen to be in West Hollywood next week on November 13th and go to the event, please give Marcus a hug for me and send me pictures.

Take a trip down memory lane, visit MARCUSMOJO.COM and all the blog posts about Marcus Mojo here on Queer Me Now.
[UPDATE] Here's the message from Scotty B, the host of the event:
I wasn't going to respond but with the comments degrading Marcus I think i should step in. I am Scotty and i host & have hosted the ONLY weekly live Q&A porn happy hour show that LA has ever had. Yes, I do all kinds of events: right now we are collecting canned goods. In December we will do a toy drive and Christian Owen will come down and do a Shoe Drive. At my show we've celebrated birthdays had porn stars propose to one another (bless their hearts) and we've also had memorials for porn stars who have been friends of mine but tragically passed

This industry as weird as it might be sometimes is a family and believe it or not numerous fans asked me to put this together for Marcus. Two of his fans are actually putting it together for Marcus.

Do I see this as tacky or tasteless, NO! If anyone came to me and said they needed money for surgery or for AIDS RIDE (which we have raised money or in the past) I would gladly help. I don't see Marcus as Str8 or Bisexual I see him as a friend who has been nothing but sweet to me and has done my show for chump change when he knows he can go to another bar and get triple the amount. Some of his counterparts were founded at my show and now won't do my show because it's beneath them.

If any of you want to ask me questions one on one please email me: scottybpresents@gmail.com I'd be happy to answer but please don't bash Marcus on here or his choices.

Finally thank you Kookie for sticking up for me =) See you all tomorrow night at @DirtyDishXXX and @NumbersWeHo at @RevolverWeho
» Read the rest of the entry..