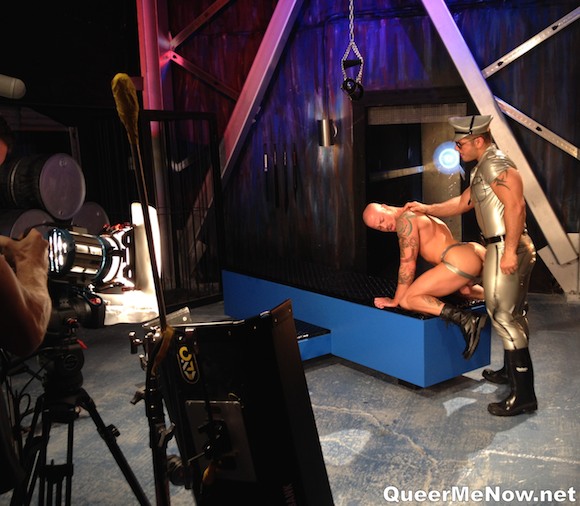 In case you haven't read my previous blog post, I'm traveling and director Christian Owen invited me to the set of HOT HOUSE's upcoming movie Control Room while I was in San Francisco. They were filming two sex scenes with porn stars Luke Adams, Marcus Ruhl, Sean Duran and Dave Circus.
In Part 1 of Queer Me Now's exclusive report from Hot House set, I would like to share with you some behind the scenes photos I took from the sex scene where porn star Marcus Ruhl in latex police outfit dominates and fucks musclebound Sean Duran. You might saw pictures of Marcus Ruhl in the same outfit but pairing with Sean Xavier and Dave Circus. They did tried those pairing but the director thought that the duo between Marcus Ruhl and Sean Duran is the best combination, and decided to shoot the actual sex scene with them.
The scene took a really long time to shoot, they needed to adjust lighting and camera angles all the time. But the models were very professional and never complained. I was happy to be on set, check out some behind the scenes photos below.
» Read the rest of the entry..