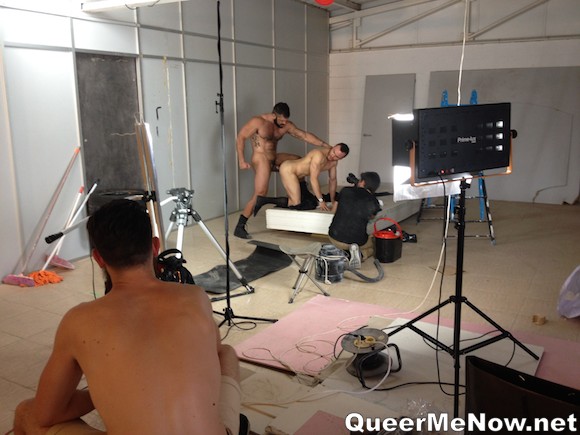 I've already posted many pictures and video clips from my trip to Prague to report from the set of Nakedsword's Dirty Rascals last July. But that was not all I did in Europe during that trip. Instead of heading back home after my time in Czech Republic, I went to Madrid, Spain. I've already posted a picture of my dinner with porn stars Lucio Saints and Allen King.
During that trip to Madrid, the owner of Alter Sin invited me to his porn shoots for MEN.COM. How could I resist that? I ended up being on 3 of his porn shoots and met 4 hot gay porn stars Damien Crosse, Denis Vega, Gabriel Vanderloo, and Rogan Richards.
Now Men.com is about to release one of those three scenes. It's called The Business Of Sex Part 3 where Gabriel Vanderloo gets fucked by Rogan Richards. I will post behind the scenes video clips of this scene next week. For now, check out these pictures I took from the set featuring gay porn stars Rogan Richards and Gabriel Vanderloo (Gabriel was so sexy in person and Rogan was hilarious!) You can watch the full sex scene on MEN.COM.
» Read the rest of the entry..