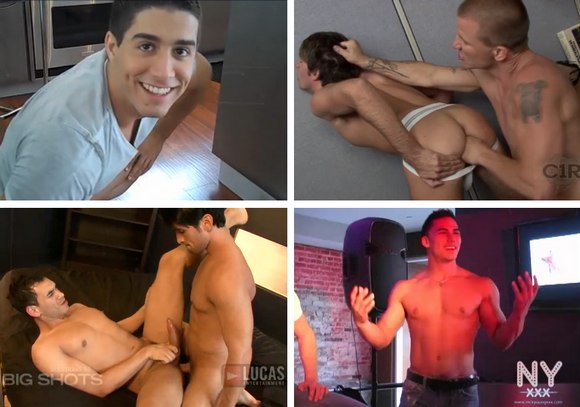 In this edition of Gay Porn Stars Video Update: Interview with Robert Van Damme, Rod Daily and Topher DiMaggio, Check out Diego Sans and Drew Collins on the set of Randy Blue, Watch Little Big League 4 XXX trailer, Listen to a funny revealing story from Pierre Fitch, and more.

Matan Shalev and Justin Christopher Exchange Butt Poundings in Big Shots.

According to RANDYBLUE.COM, The Malachi Marx Fucks Diego Sans video isn't Malachi "coming out of retirement", he was simply filling in for his brother Isaac Marx at the last minute. Diego Sans looks so cute in this BTS video, by the way.

Behind the scenes with hot new Randy Blue model Drew Collins.

XXX trailer of GRAND SLAM: LITTLE BIG LEAGUE 4.

Robert Van Damme's First Tell All Interview After Jail [Part 2 / Part 3]

Wolf Hudson catches performer Pierre Fitch off guard in a revealing story about taking his boyfriends penis (Ralph Woods?)for the first time and how it felt.

Rod Daily Exclusive Interview With Next Door Studios.

Tucker Vaughn Exclusive Interview With Next Door Studios.

TitanMen Exclusive Dario Beck and a new face to the TitanMen franchise (Isn't that Antonio Moreno aka David V aka Ricky Martinez?) hanging out in the Castro.

Rafael Alencar at Exile Club, Leather Bar club has a funny ass contest.

Drew Cutler and Topher DiMaggio at Cocktails With The Stars.

Behind the scenes of Underwear Station Photoshoot with Levi Poulter.

Former Sean Cody model Ajay's Zero to Savvy Webisode #5
Behind the scenes of Kristen Bjorn's Horns of Plenty with Axel McDougal and David Dirdam.