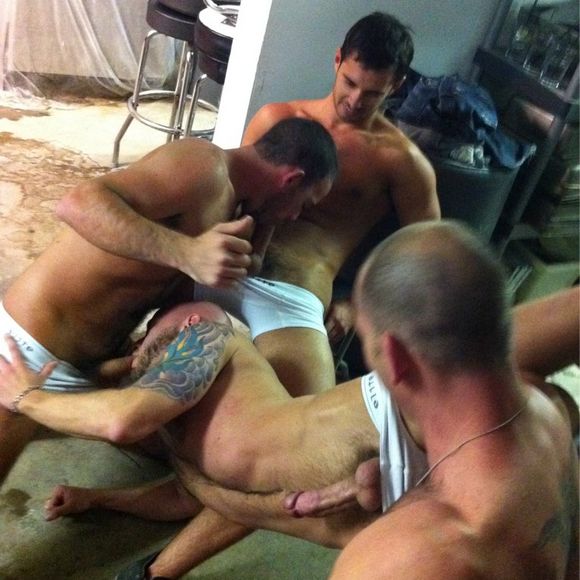 It's the IML / Grabby Awards weekend in Chicago filled with naked gay porn stars.
This year I lost to Gay Porn Times for Best Porn Blog, Bel Ami model Kris Evans won Hottest Cock Uncut, Best Newcomer goes to Riley Price and Steven Daigle, Samuel Colt and Brent Everett won Performer of the Year, Angelo Marconi won Hottest Bottom, MARCUSMOJO.COM won Best Pornstar Site. And the Best Movie goes to Kristen Bjorn's Costa Brava. Check out the full winner list below.
Don't miss the Roundup of this hot porn event. The sluttiest pictures are what porn stars share via Twitter from behind the closed door. My 2 favorites are from Parker Perry and Steven Daigle. Both feature hottie Donny Wright! And Rolling Blackouts managed to capture the steamy moment when Jimmy Durano sucks and rims Samuel Colt.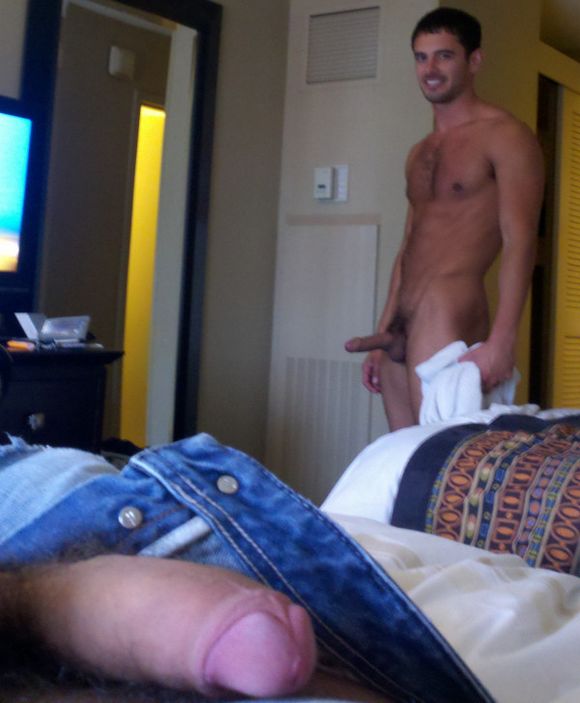 + More photos from Parker Perry | Steven Daigle | Jason Sparks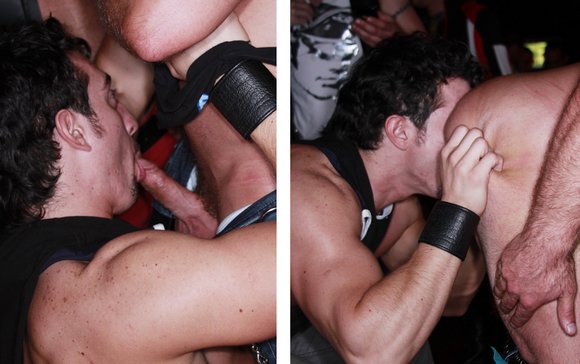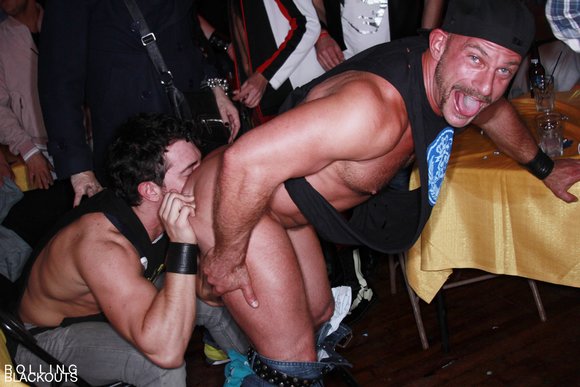 + Chicago [Rolling Blackouts]
+ 2011 Grabbbys | Austin Wilde & Anthony Romero at Spin | The Brents & the Bel Ami Boys at Lucky Horseshoe | Tim and Roma Show | Skin Trade at Hydrate [Craig's Pop Life]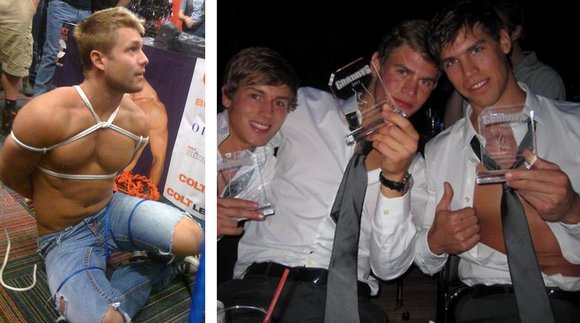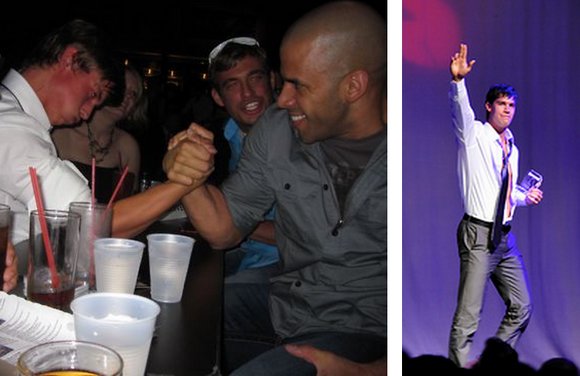 + 2011 Grabbys-IML Weekend, Part I | Part II | Best Porn Blog [Gay Porn Times]
+ Grabby's 2011.. And The Award Goes To.. [Craig Reynold Blog]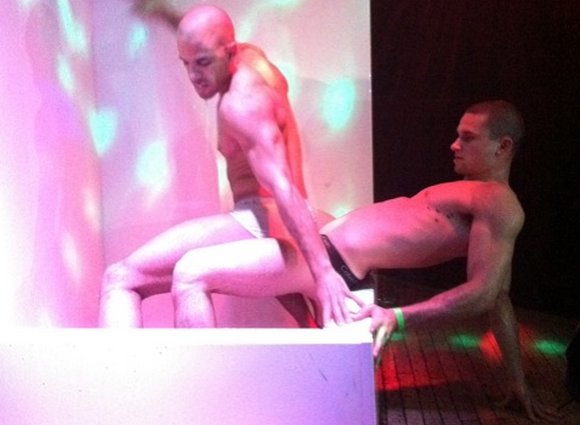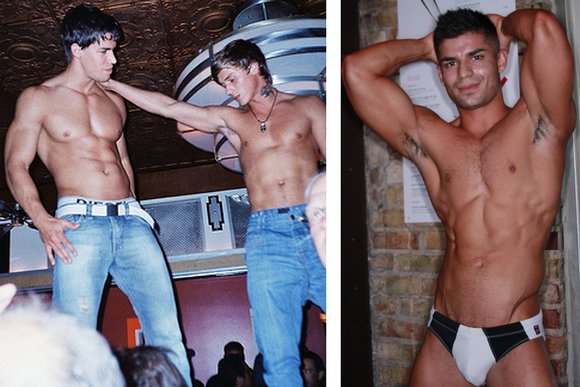 + Day 1 – Grabbys and IML | Day 2 – And the winner is | Day 3 – Leather Market [Alexsander Freitas Blog]
+ Bobby Clark at IML 2011 [Queer Porn Nation]

Austin Wilde and Anthony Romero smooch before presenting the Grabby Award.

Cute Bel Ami boys Dolph Lambert and Kevin Warhol present the award.

Alexsander Freitas meets Ricky Sinz at IML.
CONGRATULATIONS to all of this years winners and nominees.
BEST DUO
Benjamin Bradley and Brian Hanson
LOTUS/BUCKSHOT
———————
HOTTEST COCK CUT
SHANE FROST
———————
HOTTEST COCK UNCUT
KRIS EVANS
——————–
BEST GROUP
Tony Madrid, Raul Enquidanos, Ray Andres and Justin Harris
Costa Brava/Kristen Bjorn
——————–
BEST FETISH MOVIE
Double Czech: Twins in Lust
Channel 1 Releasing
——————–
BEST FETISH EXTREME
Kennel Master
Titan Men
——————–
BEST INTERNATIONAL MOVIE
Too Big To Fail
Bel Ami
——————–
BEST SOLO
Shane Frost
Shane's Pool Party/Jock
——————–
BEST VIDEOGRAPHY
Tony DiMarco
Brutal 1 &2
Raging Stallion Studios
——————–
BEST PORNSTAR BLOG
Mike Dreyden
——————–
BEST BOX COVER
Hot Sex
Raging Stallion Studios
——————–
BEST PRO/AM
Deep In The Fox Hole
Active Duty
——————–
BEST PORN BLOG
Gay Porn Times
——————–
BEST VERSATILE PERFORMER
Wilfried Knight
———————
BEST SCREENPLAY
Chris Steele
Getting Levi's Johnson
Jet Set Men
———————
BEST ETHNIC
Steamworks
Raging Stallion Studios
———————
BEST ART DIRECTION
Getting Levi's Johnson
Jet Set Men
———————
HOTTEST CUM SCENE
Samuel Colt, Alessio Romero, Arpad Miklos, Brenn Wyson
Crotch Rockets / Mustang
———————
BEST COMEDY
Getting Levi's Johnson
Jet Set Men
———————
BEST PORNSTAR SITE
MARCUSMOJO.COM
———————
HOTTEST RIMMING
Benjamin Bradley and Brian Hanson
LOTUS
BUCKSHOT
———————
BEST STILL PHOTOGRAPHER
Greg Lenzman
———————
BEST THREE WAY
Dominic Pacifico, Spencer Reed and Alexsander Freitas
Adrenaline / Mustang
———————
BEST SUPPORTING ACTOR
Brenn Wyson
Brutal 1 &2
Raging Stallion Studios
———————
BEST DIRECTOR
Tony DiMarco
Brutal 1&2
Raging Stallion Studios
———————
HOTTEST BOTTOM
Angelo Marconi
———————
BEST NONSEXUAL
Howard Andrews
Grand Slam
Channel 1 Releasing
———————
BEST TWINK
My Summer Vacation 1
Citi Boyz
———————
BEST NEWCOMER
Steve Daigle and Riley Price
———————
BEST ACTOR
Brent Everett
Grand Slam
Channel 1 Releasing
———————
BEST ORIGINAL CONTENT
Next Door Studios
———————
BEST EUROPEAN THEME SITE
Bel Ami Online
———————
BEST FETISH SITE
Active Duty
———————
BEST VOD SITE
Naked Sword
———————
BEST VIDEO COMPANY SITE
Hot House Entertainment
———————
BEST AFFILIATE PROGRAM
Channel 1 Releasing Affiliate Program
———————
BEST LIVE CAM
Camera Boys
———————
BEST MEGA SITE
Suite 703
——————–
PERFORMER OF THE YEAR
Samuel Colt and Brent Everett
———————
BEST MOVIE
Costa Brava
Kristen Bjorn
———————
BEST ALL SEX MOVIE
Loading Zone
Hot House Entertainment
———————
LIFETIME ACHIEVEMENT
Kristen Bjorn
———————
WALL OF FAME
Sister Roma
Steve Shay
Brandon Baker
Dean Monroe