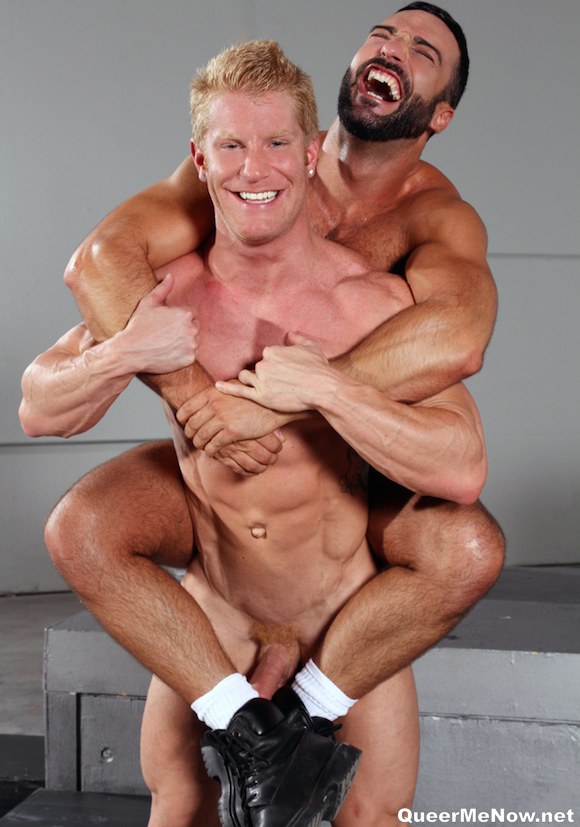 In case you haven't already known, Falcon Studios, Raging Stallion Studios and Hot House have relocated their production team from San Francisco to Las Vegas, Nevada.
I posted some behind the scenes pictures from Christian Owen's porn shoot with Jimmy Durano & Ivan Gregory and Raging Stallion's with David Benjamin & Austin Chandler yesterday.
Today I'm so happy that Kent Taylor, VP Las Vegas and Head Photographer of Falcon / Raging Stallion, has sent me an exclusive photo for readers of Queer Me Now Blog. It's from the set of Raging Stallion's upcoming movie "Dirty Warehouse" showing gay porn stars Johnny V and Abraham Al Malek playing around on set. I love candid picture of porn stars like this.
Johnny V is definitely the rising porn star to keep an eye on this year. Check out my exclusive interview video with Johnny V. Behind the scenes pics of Johnny on set of Falcon here, here, here, here, on set of Hot House here, here and don't forget to check out these sexy gifs of Johnny V and his hunky boyfriend Joey D.
I've never met Abraham Al Malek but I just met his husband (Dato and Abraham got married months ago, Dato showed me his wedding ring) on set of "Dirty Rascals" in Prague and got a chance to hang out with him in Madrid. Here are my coverage of Dirty Rascals: Day 1, Day 2, Day 3, Day 4 and Day 5.
On and since they are in Las Vegas, these porn stars went to Share Nightclub last night. Check out photos of Johnny V & Abraham Al Malek with fellow porn stars Derek Atlas, Austin Chandler and Dominic Pacifico below.
» Read the rest of the entry..